So we've all heard in the news this week about how research is showing
coffee can cut your overall risk of dying by 10%.
It seems to go back and forth throughout the history of research about coffee and current studies also include sites of traces of certain hazardous poisons being in different types of coffee. You can believe one or the other or both. I wouldn't get excited about any of them - even though I was admittedly immediately intrigued about the whole living longer thing. These researchers will most likely change their minds again in the future as per usual like how they often go back and forth about the health risks or benefits of eggs or milk.
No matter how you take your coffee the bottom line is this:
Believe what you want to believe - if you believe it's good for you, and you will live longer because of it, then do it right? If you believe that it's not good for you, simply leave it alone, we won't hold it against you. For long. Promise.
Now I'm not saying this will philosophy work on cake or anything deep fried - what I am saying is that if you want to live to the highest mortality rate you can achieve and you think massive amounts of coffee will get you there, more power to you! Who am I to tell you to stop? I wouldn't dare. Dumbo believed he could fly because he was holding a single feather...
I believe that coffee fuels my soul.
I believe coffee warms my heart and invigorates my spirit.
I believe I will probably live forever just on what I've already consumed in my life this far.
I believe coffee is my best friend who has been around the longest and has never forsaken me when I needed it most. (of course who knows what happens when my back is turned)
What do you believe about your coffee?
The Java Joe Mamas are back on CLM with Coffee Chronicles!!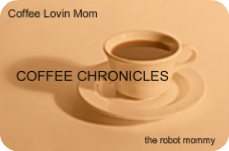 **I do apologize for last weeks internet FAIL. Now back to your regularly scheduled programs..