Welcome to another fine edition of Coffee Chronicles where we break down the low down on your coffee inquiries and Thank Coffee It's Friday each week! We enjoy your company as we hash out your questions and pull a little magic out of our sleeve like we are this month with the recipes. You never know what other surprises we might pull out..
This week, I made the recipe at my house and it was a big hit! The kids insisted on ice cream (we used vanilla) one of the last times we went shopping so we had all the ingredients - we used root beer instead of coke and the kids portions were more soda than coffee. It turned out to be a very easy and fun dessert!
Enjoy!
Coffee Float (cold)
3/4 cup strong coffee
1/2 teaspoons sugar
1/4 cup cream
1 scoop of coffee flavored ice cream
250 ml Coca Cola
Sweeten coffee with sugar, and chill
Mix coffee and cream
Fill 4 glasses half full
Add one scoop of ice cream to each glass
So there you have a simple crowd pleaser that can only be outdone with whipped cream and sprinkles - one of which my husband added to it, not to try and outdo me or anything...
Join us again next week where we give you more heated (in more ways than one) recipes that will be sure to keep you warm during these cold winter evenings..
Is there a coffee recipe you would like to see?
Do you have a burning coffee question you would like us to answer?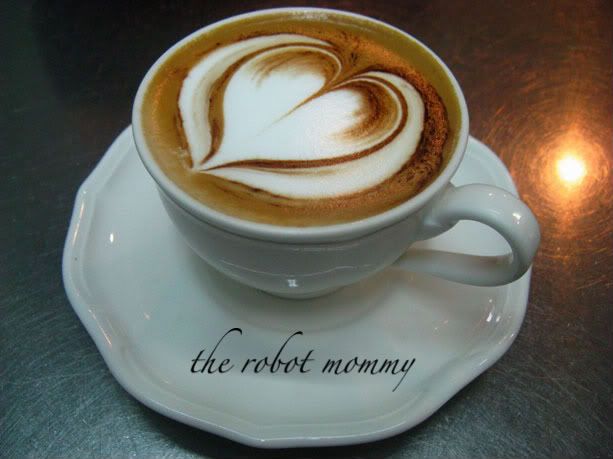 Please keep your coffee questions rolling in by leaving them in a comment here or emailing one of us at:
TheRobotMommy@yahoo.com
or
CoffeeLovinMom@yahoo.com
Enjoy your weekend and remember to Respect the Cup!
Java Joe Mamas