Thank coffee it's Friday!
Here's hoping you didn't have to go out in the thick of the craziness that shopping is on this the blackest of Fridays...and that you got all the deals you wanted if you braved that insanity! You won't catch me out there fighting for my life but would love to hear your story, please grab a cup and share...if you stay long enough you'll leave with a recipe that will perk you right up!
My dad gave me a bunch of instant coffee to take home from Thanksgiving because he doesn't like it (in so many words) so I decided to look up some instant coffee recipes in order to use it without having to drink it myself. Not that I wouldn't recommend instant ever, it's only because instant is just not strong enough for my taste... I won't tell you what my dad said about it..
Since 'tis the season and people are all about the new recipes, this week, Java Joe Mamas chooses to share one with you that is sure to be a pleaser. I baked these last night seeing as I amazingly had all the ingredients (aside from the nutmeg) because you know, we can never get enough to eat on this holiday. I used my *ahem* will power to save them for breakfast this morning and I gotta say, they were the perfect pairing for my morning cuppa joe!
Cappuccino Muffins
Ingredients:
2 cups all-purpose flour

1/2 cup sugar

2-1/2 teaspoons baking powder

2 teaspoons instant espresso coffee powder (or instant coffee)

1/2 teaspoon salt

1/2 teaspoon cinnamon

1/4 teaspoon nutmeg

1 cup whole milk

1/2 cup butter, melted and cooled

1 egg, slightly beaten

1 teaspoon vanilla extract

3/4 cup semi-sweet chocolate mini-chips
Preparation:
Preheat oven to 375. Line muffin tins with papers or grease liberally.


In a large bowl, whisk together flour, sugar, baking powder, espresso or instant coffee, salt, cinnamon, and nutmeg. Set aside.
In a medium bowl, mix milk, butter, egg, and

vanilla

until combined. Stir milk mixture into flour mixture only until combined. Do not overmix. Fold in

chocolate

chips.
Fill muffin cups 3/4 full. Bake 15 to 20 minutes for standard muffins.
Note: I did not miss the nutmeg...I also used more instant coffee than it called for because you know, I like it strong...
There was not a call for frosting but I thought something chocolate would compliment it well or even (from what I hear) delicious Nutella...yumm
There you have it, another coffee recipe this time from the kitchen of CLM who by the way doesn't bake...
Thanks for joining the Java Joe Mamas for another educational and slightly entertaining edition of Coffee Chronicles giving you the scoop about coffee each week. We are indeed thankful for all of you that show up to find out what we're cooking or dishing out every week! Don't forget, there's a mug giveaway for all you hard core coffee lovers out there...CLICK HERE for the post.
So what are your thoughts on instant coffee? Do you use it or can't you bring yourself to being the coffee snob that you are?

Let us know what inside coffee info you really want to hear by leaving it below or emailing us at: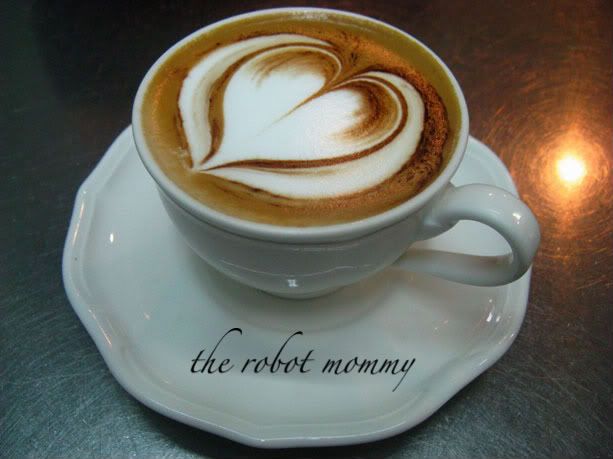 TheRobotMommy@yahoo.com
or
CoffeeLovinMom@yahoo.com
See you next week!
Java Joe Mamas