THANK Coffee it's Friday!
THANK YOU for joining us again for another rendition of Coffee Chronicles with the Java Joe Mamas where we give you the low down on coffee info every Friday. This week's question comes to us just in time for the holidays when we know you will want to be indulging in the sweetness of the seasonal, sweet and calorie rich drinks at your local coffee house. Don't forget, I'm giving a mug away this week for all the coffee lovers out there...CLICK HERE for the giveaway post.

It's coming up!! The holiday drinks which means cute red cups, yummy recipes and.....

A shitload of calories.

But c'mon, you guys know this!!

One of the ones that everyone gets extremely giddy about is the Eggnog Latte.

And it's one of the ones I dread making all year.
It's not that it's harder to make or a pain to create... well...
Have you notice how loud the milk steaming is during the holidays?

Reason: Fatty Eggnog

It's so heavy that it takes a little more effort, patience and humility to make. My clothes get sprayed with eggnog daily during the holidays.

But you don't care about my woes, what you should care about is this:



21 grams of fat!?! Yikes.

So the alternate?




Basically, you are given the option to go nonfat, 2% or whole.

No whole milk unless calories mean nothing to you...

The ONLY way to create a great coffee beverage with eggnog (in this JJM's opinion) is to make a 16oz QUAD shot half eggnog/ half milk. Lots of cinnamon spice on top and a pump of cinnamon dolce syrup... Seriously, you die it's so good.

However, I do recommend keeping it tall, keeping it nonfat or 2% and keeping it a once a week or every two weeks treat.

Because wouldn't you rather eat a few of those holiday cookies instead? :)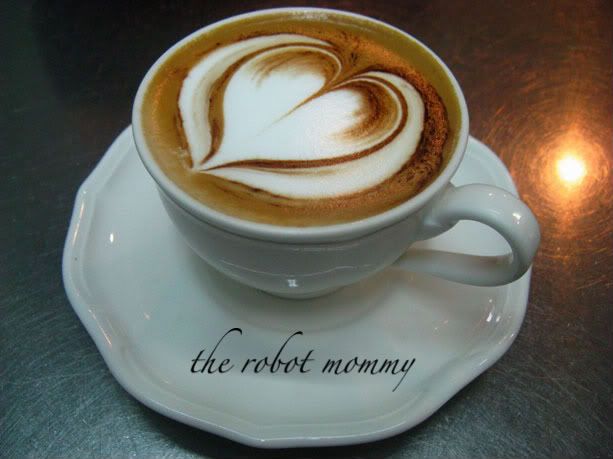 Have a coffee question? No question is to big or small...
We really enjoy bringing you the coffee info and snark every week but without your questions we wouldn't be here so please keep them rolling in!
Please feel free to leave your question in the comments below or just let us know what you really want to hear by emailing us at:
TheRobotMommy@yahoo.com
or
CoffeeLovinMom@yahoo.com
See you next week!
Java Joe Mamas