Is it really Friday? Can I just say it's about time?
Why does it feel like it took a year to get here this week?
Thank Coffee It's Friday people! You'll be glad you grabbed a cuppa joe and joined us for Coffee Chronicles this week because we are treating you to what's bound to be a hit at any party you may have ...wait, screw that, make these for yourself and make your coffee lovin' mouth smile a little bigger - that's what I'm gonna do!!
From the kitchen of TRM:
If you have a sweet tooth and want some delicious while sipping a steaming cup of hot coffee, these bars will satisfy you. They are so good.
The hubby informed me that dessert was a bit scarce around the house so I quickly whipped these up. It's really hard not grabbing one every time I pass through the kitchen.
The coffee addition really gives them a rich background flavor and the white chocolate chip and toffee really puts them over the top. Just what we needed with all the excess Halloween Candy over here!
Oh well, these are nice to have around the house for the holiday season and would be a great addition to any cookie platters you have going out to friends.
Photo credit: Food.com
Don't eat them all at once.
Cappuccino Crunch Bars
Adapted from Bake Sale Recipes
1-3/4 cups all-purpose flour, sifted
1 teaspoon baking soda
1 teaspoon salt
1/2 teaspoon ground cinnamon
1 cup butter, room temperature
1-1/2 cups light brown sugar, packed
1/2 cup granulated sugar
2 eggs
2 teaspoons instant coffee granules or espresso powder, dissolved in 1 Tablespoon hot water and cooled to room temperature
2 teaspoons vanilla extract
1 cup white chocolate chips
1 cup toffee baking bits
Combine flour, baking soda, salt and cinnamon in large bowl; set aside.
Beat butter and sugars in large bowl with electric mixer at medium speed until light and fluffy; about 3 minutes. Add eggs, one at a time, beating well after each addition. Add coffee mixture and vanilla; beat well. Add flour mixture; beat until well blended. Stir in white chocolate chips and toffee bits.
Spread batter evenly in a well greased 13 x 9 pan. Bake at 350 degrees for 25 to 35 minutes or until golden brown (mine took 25). Cool completely on a wire rack. To get nice clean edges on the bars I refrigerate them for a couple hours before cutting them.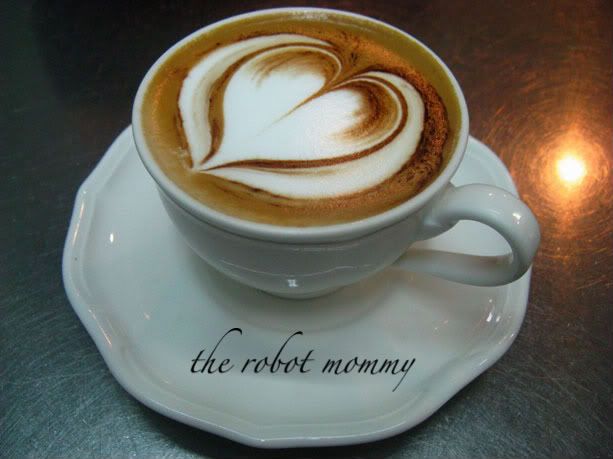 These really brown up nicely in the oven.
And there you have it folks, our treat...no tricks here!
Just our little way of saying thanks for showing up every week with the hopes of being a little more informed in your coffee knowhow. We enjoy broadening your horizons that way...
Have a coffee question? No question is to big or small...
Please feel free to leave your question in the comments or just let us know what you really want to hear by emailing us at:
TheRobotMommy@yahoo.com
or
CoffeeLovinMom@yahoo.com