Thanks for tuning in again this week for our Friday Coffee Chronicles where we Thank Coffee It's Friday each week here answering your burning coffee questions and this week giving you the winner of the Starbucks Gift Card.
First thing's first, let's get on with the question coming to us this week from Just Jennifer who asks:
Dear Jennifer,

So your husband isn't respecting your cup? Hmmm...

Read this, honey.

1453: Coffee is introduced to

Constantinople

by Ottoman Turks. The world's first coffee shop, Kiva Han, open there in 1475. Turkish law makes it legal for a woman to divorce her husband if he failed to provide her with her daily quota of coffee.

Given this little piece of info, you can see the important role that coffee played in a marriage.

Ok, you aren't Turkish... ( wait, are you?) and it's not the 15th century but who's gives a cinnamon topping moment?!?

Repeat after me. Make your hubby do it too.

"I will abide by the Constitution of Coffee and Marriage and will always remember the laws. As coffee is the foundation of a loving and civil union, by this documentation I will never sway:

No one shall covet another choice of cup. Thy cup is thy own and only thy own.

Always communicate to spouse regarding choice of cup. A mutual agreement must be acquired.

Never choose to take upon one's self to determine if said cup is done. Thy owner of cup rules over cup's disposal.

Sharing of cup is not optional. Believing this to be true will cause ill regard to both parties involved.

Respect the cup.

By this I do solemnly swear."

Hang this in the kitchen.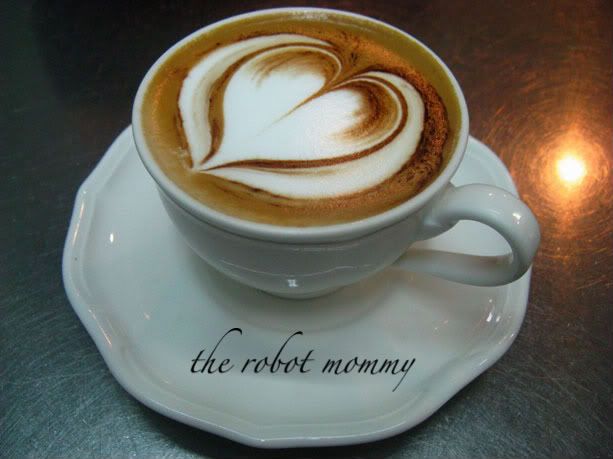 Cheers!
t.r.m.
And now, the moment you've been waiting for and the real reason you showed up this week: Our winner is....Kristin Silva!
Congrats to Kristin who is "a mother, wife, school counselor, sister, daughter, friend, animal lover, coffee addict, and a constant work in progress." She has a blog called LIFEOLOGY where you might just be able to catch her randomitis.
Thanks to Kristin and everyone who entered the contest - we appreciate all the interesting coffee questions we received from this and encourage you to keep checking in with us because you never know which Friday we might decide to reward you for showing up with some coffee!
Remember you can always email your coffee questions to us at:
TheRobotMommy@yahoo.com
or
CoffeeLovinMom@yahoo.com
AND now you can also catch us at our new JavaJoeMama twitter handles: @JavaJoeMama1 and @JavaJoeMama2
You guys all rock, thanks for loving us so hard - stay tuned next week to see if your question gets answered, gain some coffee knowledge and of course snark, let's not forget the snark!!