I have this saying in my kitchen and go by it every day: "Leave Things Just a Little Better Than You Found Them." This is really a message for my children to pick up after themselves and my way of delegating duties.
My kitchen is never completely clean, yeah I clean it but it will never up to standards of certain company and it's only a little better than the condition I found it in in the first place. It hasn't been perfect since the day we moved in, and probably not even then. I have too much counter space that's easy to pile things up on. I have a list of other lame excuses that don't even really justify it anymore especially with the kids back in school and me not working but in reality, I just don't feel like cleaning because it's a hopeless cause. Not even 5 minutes after I clean something, someone spills or glitters it all up. My idea of "clean" (and I use those quotations very loosely) is not that of anyone else's especially those who hardcore clean daily which honestly I have never done. Maybe almost once but then it's good for a couple weeks kind of thing.
While we are at it, I also have a sign in my kitchen that states: "I Kiss Better Than I Cook." This is debatable seeing as it would be hard to judge with the fact that I don't do either very often. (I kiss my kids more often than my husband but that's a whole other post.) So to say I'm slacking on the wifely duty department is putting it mildly. I procrastinate majority of the time and I could easily be a professional time waster. I'm a slacker - there I said what my MIL has been telling my husband for years and what he thinks, he just has yet to voice it. Well the "kissing" part he voices quite often but has only once criticized my cleaning abilities to my face anyway and must just know not to mention it.
I don't run upstairs when the kids leave for school to make their beds nor do I make mine on a regular basis and I know people who can neglect everything but as long as the beds are made they feel like they accomplished something. What really is the standard of living up to the duties? Does making the beds and getting my children in the habit of it really going to get me points somewhere or help them get a job someday? I highly doubt it but this is a pet peeve of my husband's so he must get that mentality.
Only select parts of my house are clean at any given time, not usually the whole thing all at once unless we are having a party. I try to clean a floor at a time if I get that far. This habit shines true when I clean just because it needs to be cleaned and my daughter asks: "Who's coming over?"
I'm not a hoarder by any means (well I suppose that depends on who you ask based on my piles of crap), it doesn't stink when you walk in unless the garbage is extra ripe and I'm sure my house would not be quarantined but the health department would give me minus lots of points for expired items in my refrigerator alone.
Having said all this, I want you to know I know...I do, I see my kids doing things half assed or not putting things away taking after my so called bad habits and even though it's not and I get on them to do what I say and not what I do this is all secretly okay with me. I don't believe it's about how well you can make a bed or clean a toilet or how often you do any of those things that makes you who you are. They make an effort just like I do when it's something that means something to them, that's when it really counts. It's about being the best at being YOU and if that doesn't include housework, so be it! Those judgmental (notice the word mental in there?) people can judge all they want.
The fact that there are dishes left in my sink most nights does not change the fact that I would help you out at a moment's notice now does it? It all gets done..eventually.
PROCRASTINATORS UNITE...only tomorrow okay?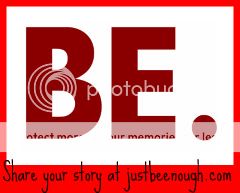 I linked this post with Be Enough Me just to let you know your domestic abilities are better than mine by far...
This is the last Monday to join this cause with Be Enough ME so PLEASE
Write, Post, Link-Up, share your story and your voice for a truly wonderful cause!
For every 20 linked up posts, Bellflower Books will provide a memory book to a woman fighting breast cancer through Crickett's Answer for Cancer, and help bring a smile to courageous women giving it their all, every single day. The link-up remains open for three days. No blog? No worries. You can also comment on the post or on the Just.Be.Enough. Facebook page
with your own story and be counted.