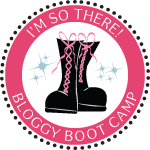 This past weekend I attended Bloggy Boot Camp in Chicago which as a first timer, I was nervous of course and all my own fears of judgement came into play. The fact that I would have to be social which is hardly one of my strong points scared me the most because I am the most likely to inevitably insert my foot directly in my mouth which I'm sure I did at some point in one conversation or another and you know what? It was all okay.
Once I started meeting people and realizing we all shared things in common, we were all putting ourselves out there, my fears went away and I was able to take things in. I felt comfortable in this space and more like I had known some of these people all along than the awkwardness of just meeting someone new. These people actually got me and there was not much for awkward silences - there was too much happy networking going on!
It's damn near impossible to put into words any information given at a conference like this which really is why you should think about going to one. I am more of a squirrel than a sponge so I know I only absorbed so much but here's part of my fast food takeout version:
We were told to take away three things and my three things today are a result of a slide that LaQuishe Wright @qfromctu (if you don't already know this girl, look her up) showed in her presentation which read:
-Mama absolutely knows best.
-Don't be afraid to make your own path.
-Ignorance can truly be bliss.
-Write from the heart
-Having a vision and a support system is KEY
-Dream BIG or go home
-Pay it forward.
-Be FEARLESS!!
Always remember you get what you give…
And you can't make everyone happy
From this I take away three important things:
I am the most blissful person you will ever meet.

The true way to make my own path IS to write from the heart.

Finding a support system that supports my vision while encouraging me to go for my dreams truly is the key and also a process.
Tiffany Romero @TiffanyRom and Francesca Banducci @SitsGirls did an awesome job of providing us with really great speakers. I really feel like I took three inspiring things from each of them! Now I just need to narrow it down and figure out where it is I want to be successful..
"Wherever you put your emphasis and attention is what you will be successful at."
-Tiffany Romero
What is it YOU are being successful at?
What would you like to be successful at?