On the morning of July 15th, I found an intriguing tweet that I decided to take my chances on...
With all the talk about BlogHer and other conferences going on, I was hoping to get to one in the Chicago area but when I was looking I didn't think I had the money or the time. With this single tweet, I suddenly put the kabosh to both those natural reaction NO thoughts! I made up my mind that this was my opportunity and I had no other choice but to at least go for it.
I contacted @
ElleMarieH to find out the details telling myself whatever would happen was meant to be, for her to tell me someone else was also interested and contacted her first. I put a little pressure on by telling her I had cash money because I know how that works in certain situations, and after only three short weeks, I now have in my possession the ticket to the event of my blogging lifetime!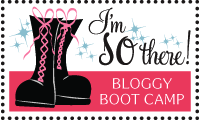 I am excited and nervous at the same time about this because I am not a social person at all - ask any of my friends or family - I barely answer the phone. This is why I blog, it's not as social in that I don't really have to get off my butt and physically talk to people, or you know, get dressed and look appropriate for public neither of which is my forte. So this will be a big thing for me both in my blogging level and truly at a social level being more intimate a setting than BlogHer, I probably won't have much opportunity to hide in a nice little corner staying inside my comfort zone being a people watcher (or anti-social, you can feel free to make that call).
So I spent a bunch of time designing cards for my non-business blog that I may or may not decide to pass out because I'm not really sure it's even appropriate for me to do that when I am not promoting a business in the first place..or a brand or a niche of any kind really. I just talk about coffee and the kids, I don't even have a sponsor - nor have I tried to go about getting one. So why did I decide I had no other choice but to go again? Am I just filling up space where a real blogger should be? I know there will be so many things that don't even apply to me not having a brand or really, let's face it, a clue! Now that I actually am going, and because I got my ticket it's really real, my fear is creeping in here and I am breaking myself down in front of you - did you just see that happen??
Thanks fear, I am good..see you next time kthanksbye.
I know that this is all happening for a reason (or the person who contacted first would be going, right?) and I will learn a tremendous amount of things to help me as a blogger which I will of course pass on to you. There are people that will be there that I feel like I already know and would love to meet so this will be a completely different approach to a social atmosphere than any I've experienced so far.
A big thank you goes out to @ElleMarieH for selling me her ticket - the process was really effortless and to @Sheswrite for retweeting because I wasn't following the #BBCHI hashtag - ah the power of Twitter!
I will hide my nervousness with excitement as often as possible and be open to all the opportunities presented even if they are hidden as something else without leaving early or throwing up...that's my goal.