I have been unemployed since February - that's six months now (six months and 12 days but who's counting?) that I feel have been poorly planned maybe due to my countless list of projects, activities and things I wanted to be able to do being off work, now having "all the time in the world" to be able to get them done. I've hit this six month mark quicker than I thought I was going to without getting much done - it's staring me straight in the face and hitting me hard this week because the kids started school and so the time seems really wasted. I am a professional time waster.
I had my own To Do List I wrote back about April including a good 15 things I wanted to get done before summer started - painting projects to cleaning out closets projects and you know what? Here we are at the end of the Summer and I've done ONE - I repeat ONE project on the list in the six months I have been off work. It was a decent size painting project that I am proud of but waited to do until a few days before my daughter's birthday party at the end of July which is hardly the beginning of summer. (..sounds like I'm really proud, right?)
It may be my lack of motivation that is killing the whole production, or perhaps the plain procrastination and the fact that I tend to put too many things on my plate and then become engulfed in a couple...for a minute...and then I lose interest. This is why I don't do many To Do Lists because I know my track record in keeping them. Lastly in the realm of possibilities could be that I always feel like I should be doing MORE. Seriously, if I actually DID all the things I thought about doing I would be able to follow recipes and keep plants alive, have that bikini body, a spotless house, more money saved, a clean car, this list could go on until I run out of space here...
How many times do I have to brow beat myself over this - which I've been doing for at least a week - before I decide enough is enough? I can feel myself wearing down and this seemed to come at just the right time...
I know in acknowledging even the smallest steps in the course of a day I can feel that much more empowered and somehow by putting it in writing it is validated all the more each time I look at it on the paper even if I was already aware of it. I know in my heart I am enough, I just have to start to believe it..
Here are my Acknowledgments for Today:
I acknowledge myself for getting the kids up and to school on time.

I acknowledge myself for vacuuming the entire upper floor.

I acknowledge myself for cleaning two of four bathrooms.

I acknowledge myself for clearing my dresser so I can see it again.

I acknowledge myself for being aware of what I need to do for myself before I can make anyone happy. (The first step is admitting there is a problem after all...)
I begin today to write 5 Acknowledgments and 5 Gratitudes each day that will help me believe I AM enough because I know it's all in what goes on in our head that makes us believe one thing or another. Henry Ford said - "Whether you think you can or can't you're right." I actually said this to my son today when he was talking about how he couldn't do his math. Why not make it work FOR us instead of against us?
In Gratefulness, there can be no fear...
Here are my Gratitudes for Today:
Today I am grateful that I don't have to do this alone.

Today I am grateful for my children telling me they love me.

Today I am grateful for being interrupted by hugs.

Today I am grateful for the sounds of summer.

Today I am grateful for quiet time at the end of the day.
I've linked up with Just Be Enough, where my link helps donate a memory book to those battling cancer.
I have been inspired by this group of lovely bloggers to re-spark a habit I have off
and on - you can consider things habits if you do them on a consistent basis for a period of time, right? I know this periodic habit does me a world of good no matter what is going on with my life. I recommend this to anyone looking for the positives rather than the negatives. This baby step process really does work in the snowball sort of way and I'm proof every time even if I only do it to try and prove it wrong. The first time is always the hardest but it gets easier from there.
What can you acknowledge about
yourself today?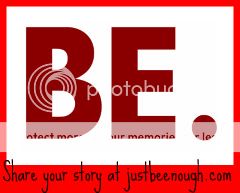 Bellflower Books will be sponsoring the Be Enough Me Monday link ups for ONE month, starting August 22nd. For every 20 people that link up with a story of how they lived the Be Enough Me "feeling" that week, Bellflower will donate ONE $75 gift certificate to a family identified by Crickett's Answer for the creation of a 20-page memory book. They will keep a running total of links over the four Mondays and hope to reach the goal of 120 links, which would provide TEN Bellflower memory books.