Since reading somewhere that I should have a blogging schedule I figured it should start with my reading of the blog(s) schedule which seems to be more out there than anything else..I feel like I don't know which way is up with all the blogs I am starting and continuing to follow.
I agreed with myself to make it easy and limit it to Tuesdays being that I'm already doing 52 Weeks of Happiness, and the weekend - why not find a couple hops to join and read favorites. Tuesday is normally my day off from the gym being that Monday is usually my hard day after slacking over the weekend (which, of course gives me more time for reading blogs...hello, there is a system here!) - I know you love the discipline. Have faith that I might be able to keep with my schedule - I have made this post to remind myself where I will be all week long.
Oh and feel free join any that might interest you if you haven't already!
Hosted by: Darcy & Brian's Tales From The Nursery
I Joined Because: It's a one stop shop - sign up and you are good till the end of the month. Plus...The pinwheel button gives me hope that Spring weather is out there!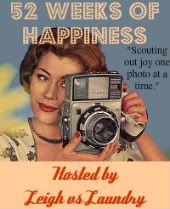 - 52 WEEKS OF HAPPINESS -
Hosted by: The talented Leigh at Leigh vs. Laundry
I Joined Because: I needed something to get me back into blogging on a regular basis and this was just what I was looking for!
- FOLLOW ME CHICKADEE -
Hosted by 5 blogs - I found it through Melissa AKA The Sippy Cup Mom
I Joined Because: I overuse the word Chickadee in my house.

~ BLOG IT FORWARD ~
Hosted by: Jen at Sweep Tight
I Joined Because: She also has a giveaway linky in case I ever do one, I can enter twice! I also love the idea of paying it forward!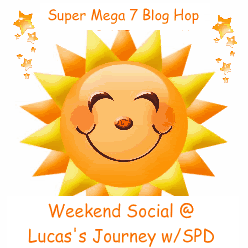 Hosted by: Lucas's Journey with SPD's
I Joined Because: It's an 8 in one where you can enter all your social networks.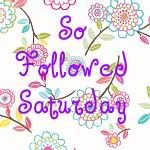 Hosted by 3 blogs - I found it through Cori and her big mouth!
I Joined Because: She told me to...
My OWN (hopefully soon to be famous) SATURDAY SHORTS - which DOES NOT YET have a button, but if I get enough interest certainly will. I have been doing SATURDAY SHORTS since my blog started - nothing but a Wordless Wednesday on a Saturday really - and a reason to wear shorts. I wanted a picture without a lot of content which would either make people smile, laugh, say hmmmmmm, or evoke some kind of happy saturday feel..let me know if you might be interested please let me know and I will work on working on a button...and figuring out the whole linky thing...
Feel free to peruse a few choice selections of my
Saturday Shorts:
Holy Balls
My Favorite Video
Transformers Movie Set
It Wasn't Our Time Yet
Epitome of Summer

- SAY HI SUNDAY -
I Joined Because: I love the button...and cupcakes
SUPER STALKER SUNDAY - A total followfest
Super Stalker Sunday is a weekly blog hop hosted by Marni's Organized Mess, Darcy of Tales from the Nursery, and April of Mama on a Green Mission.
I found it through Marni over at her Organized Mess
I Joined Because: I like the idea of being a stalker and even better, the idea that people want me to do it!
SUNDAY FACEBOOK FOLLOW
Hosted by: Bonny at Quick Tattletails
I joined because: I have a new CLM Facebook page and would love to have more followers! Who doesn't want more followers??
Plus the button with the coffee in front of the laptop looks like my desk without all the clutter! I also like her little twitterbird that will follow you around her page.
SUNDAY FUNDAY!!!
Hosted By : Carri at Adventures in Mommyhood who I tweeted with til the wee hours this past Friday night at #wineparty on Twitter just in time to find out about her funday - she's not kidding about all the fun! You can feature a post that needs comment love and the focus is comments comments and more comments. I can't wait to feature my Cialis post next week!
Ever hear of doing it twice on Sundays? Well I guess I'm doing it twice on Tuesdays, three times on Sundays and throwing a Saturday and the whole weekend in for good measure..
(I hope nobody noticed I added that eleventh thing in there!!)
Hope to see you at some of these great hops!