I'm happy to say I've decided on a challenge.
I will not brag about my camera skills because they are not all that but I do know I can find happiness through the lens so...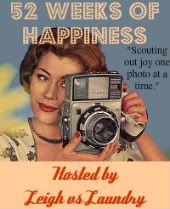 Hosted by Leigh vs. Laundry, please click her link to join the fun!
I missed the first week as most people are on week two so I will utilize two joyous pictures in this post, the first being an alltime favorite of mine:
This was taken on our trip to Ireland in 2008 at a place called Craggaunowen Castle. The castle itself was not the eye catcher, rather the landscape of the surrounding land which to me it the epitome of Ireland with all the GREEN!
This being the week of St. Patrick's Day, I thought this was the perfect picture to start with.
Next, a picture that brings my children joy just to think about:
This was taken last summer when we took the kids to Chicago and went to the Hershey Store! Needless to say, they were in heaven!!
So here we go! I am looking forward to the next 50 weeks of happiness!