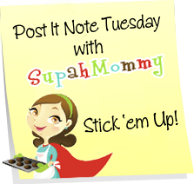 Welcome to another addition of PINT, brought to you by
SupahMommy
. Click and join the fun this week!
I am a fan of Post-It on Facebook and today their status read:
"Did you know that a Post-it Note once clung to the nose of a plane during a flight from Las Vegas to Minneapolis, and arrived in tack after surviving speeds of 500 miles per hour and -56 degrees Fahrenheit?!"
Thought it was an interesting tidbit of information for this pint day!
HAPPY TUESDAY ALL!!!