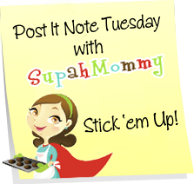 It's time for my second addition of Post-It Tuesday Hosted by Supahmommy! I think Tuesday might just become my favorite day of the week..
LASTLY - I have been wanting to thank someone..it just won't fit on a Post-It..
To The Lovely Young Lady Working at K-Mart on Saturday:
That look of death you gave me when I lined up to be first at your register in the process of being opened was not necessary. I saw you still had rolls of coins to open, your manager told me you would be opening, and last I knew you were supposed to be...WORKING! Sorry if you don't like your job, I know you would rather be piercing something or putting more eyeliner on but I believe 'Service with a Smile' might have helped you sell the umpteen warantees offered on the gifts I bought.
Good thing you don't work on commission...Me
HAPPY TUESDAY!!